Katha Scheeler
Senior Business Solutions Advisor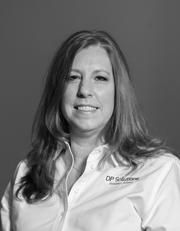 Katha is a Senior Business Solutions Advisor where she specializes in knowing and understanding her clients better than they know and understand themselves. She listens to what they really want... RESULTS!
Katha's ability to connect and get things done enables her clients to experience DP Solutions' world-class technology services including Managed IT Services, Managed Hosting and Disaster Recovery Solutions and Cyber Crime Prevention.
Katha prides herself on the following core competencies:
Results-Based Leadership and Coaching Style
Customer-centric Sales and Service Approach
Consultative Business Development
Infectious Energy and Ability to Connect
Strategic Vision and Positioning
Creative Event Strategist
Adaptability and Flexibility
Katha graduated in 1987 from University of Maryland College Park with a BS in Kinesiology and had the pleasure of being a Student Athlete, Captain of the Division 1 Volleyball team and 2 time ALL-ACC Team Member.
She then took those leadership skills began her sales and marketing career in health and fitness and professional sports for the Washington Bullets NBA Team.
Katha went on to refine her sales craft and account management through several Washington/Baltimore Based Territory Account Management positions.

She was fortunate enough pursue her dream of coaching on the college level with the Lady Greyhounds of Loyola College in Baltimore, MD. After four years, the team developed into a MAAC conference contender.

Katha's passion is her family. She cherishes her husband John and children Miranda and Dylan. Katha currently resides in Ellicott City, MD.
---

See the rest of the team »