SIMON TUTT
CEO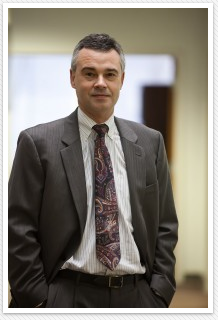 In September 2018, after 12 years as President & CEO and 25 years in the company, Simon Tutt was thrilled to appoint Karyn Schell in his place as the next President of DP Solutions.
Simon has now assumed the role of CEO and in this position, he works in an advisory capacity to the new President, Karyn Schell, and the rest of the Executive Team.
With the goal of establishing the company as an innovative leader in the Managed IT Services industry, DP Solutions appointed Simon Tutt as President in 2006. Simon was instrumental in creating a strategic vision for DP Solutions and has successfully positioned and advanced the company as a world class player in its core business competencies: Managed IT services, Cloud Services, Backup & Disaster Recovery, Security, Compliance and Professional Services.
"I made a promise to DP Solutions and our valued Clients when I assumed the position of President that I would not pass on the role until I had built a team of the best of the best to succeed me. I am pleased to report that I have far exceeded that promise! Karyn is the most exciting and wonderful leader and person that I have ever met, DP Solutions is truly in great hands!"
---

See the rest of the team »