SIMON TUTT
President & CEO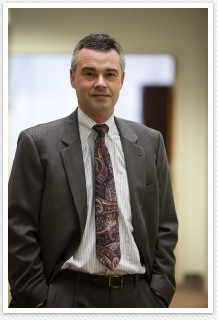 With the goal of establishing the company as an innovative leader in the technology integration services industry, DP Solutions appointed Simon Tutt as President in 2006. Simon has been instrumental in creating a strategic vision for DP Solutions and has successfully positioned and advanced the company as a key player in three core business competencies: Managed network services, managed hosting, and disaster recovery.
Additionally, Simon has implemented a fresh new approach to DP Solutions' business methodology, with a particular emphasis on the four pillars of business success: (1) Ensuring a challenging, learning, and enjoyable work environment for staff; (2) Absolute focus on customer needs and satisfaction; (3) Total commitment to improving the quality of products and services; and (4) Constant innovation by leveraging new technology to solve customer challenges better, faster and more economically.
Prior to his role as President, Simon headed the tactical functions of DP Solutions for over a decade as Vice President of Operations. In this capacity, his duties included the management of day-to-day resources, finances, and the delivery of schedules for all customer projects. His responsibilities also extended to business development, customer satisfaction, business process infrastructure improvements, as well as overseeing the building of a team of highly skilled technicians, business analysts, developers and engineers. During his term as VP of Operations, Simon was instrumental in doubling revenue at DP Solutions within a four-year period. Simon holds a Bachelor of Science degree in Electrical Engineering and continues to weave his 'go the extra mile' attitude into the fabric of the mission and goals of DP Solutions on a daily basis.
---

See the rest of the team »