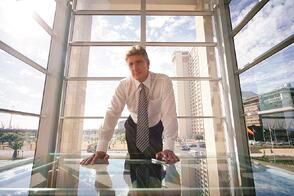 After having a few discussions with our clients, DP Solutions has drafted a series of blogs that answer important IT questions that many companies seem to face today. By taking the guise of a few memorable, fictional personas, we can interpret the needs and pains that often stunt company performance and growth. In doing this, we can offer solutions that cure these issues for many businesses.
I am the business owner of a full-service tax, accounting, and insurance firm, for over 40 years. As CEO, it is my responsibility to protect my company and the jobs of 75 employees. My last major battle over security occurred in regards to employees working from their personal devices.
Without the budget to provide tablets and other smart devices for all of my staff, it seemed like a good idea to allow them to bring their own. As a growing company, we needed a platform from which employees could securely access data outside of company walls. It never occurred to me that doing so could endanger our company's data and security until one of my employees lost a tablet that contained private client information and sensitive documents.
I struggled to find a way to deal with this possible data breach and gave the order for my IT team to research solutions to counteract this potential disaster. The answer to our mobile woes – as well as a few other company-wide concerns – came in the form of cloud technology. With the cloud solution, we quickly implemented secure remote access company-wide.
In addition to our mobility goals, we were plagued with unreliable, aging infrastructure. It seemed like we were always replacing servers! Most importantly, my IT support staff was overworked with never-ending project lists. Luckily, at one of my networking groups, a peer mentioned that cloud services could enhance productivity and relieve IT staff of daily maintenance headaches.
With the flexibility offered by our cloud service provider, we were able to maintain our in-house IT Department, and outsource the facets of our IT that were no longer cost-efficient. My company was also able to utilize our recently replaced e-mail server by incorporating an in house cloud solution.
Thanks to the cloud, we've solved our mobility and device management issues. I expected high returns on productivity from this move, and I have yet to be disappointed. We have eliminated unnecessary equipment and thereby decreased our energy costs. Through the cloud, our employees are able to access business data remotely – and securely. I've also seen an increase in confidence throughout the office, now that a good portion of our staff can do their jobs effectively when off-site. Our office is more productive, our budgets more predictable, and with the secure solutions offered by DP Solutions, I know my company information is safe.
Discover the benefits of cloud, and see what DP Solutions' custom cloud services can offer your business! Call on our experts and schedule a complimentary cloud assessment today!