SuperbCrew.com recently sat down with our President, Karyn Schell.
Q: Could you provide our readers with a brief introduction to DP Solutions?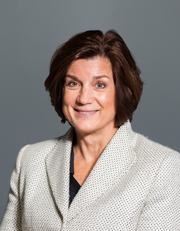 A: DP Solutions is an award-winning Managed Services Provider (MSP), earning recognition from industry leaders such as CRN®, Channel Futures and The Daily Record. DP Solutions is more than just a technology vendor, but a true partner who is there for the long-run to support our clients' business initiatives with a breadth of technology expertise including: managed IT services, IT compliance & security services, managed backup, disaster recovery, cloud solutions, hosting services and more. Additionally, we offer a 24x7x365 Service Desk, which is locally staffed by highly qualified technicians. When you choose DP Solutions for your IT support needs, we become an extension of your organization working seamlessly to ensure a successful partnership.
Q: Tell us more about your history. How did you start?
A: Data Processing Solutions, Inc. (DBA: DP Solutions), was founded by the Usher family in 1971. The privately held firm originated with a mission to provide local organizations with high quality technology services to improve their business processes. At its inception, DP Solutions offered server maintenance, application development and data processing.
As the information technology industry grew, so did DP Solutions. The company teamed up with technology giants such as IBM and Microsoft, which positioned them to offer a wide range of IT services and solutions, including top-of-the-line software and hardware.
With the explosion of the digital age in the 1990's, DP Solutions added Internet applications and custom software solutions to its repertoire to accommodate the growing technology needs of local organizations.
DP Solutions built many valued partnerships with leading technology manufacturers to provide end-to-end integration and implementation services to its clients.
In today's market, DP Solutions realizes the need for world-class managed IT services for organizations nationwide. Our mission is to ensure that the technology that supports its clients' businesses runs effectively, with maximum efficiency, reliability and support.
Q: Can you give us insights into your services?
A: DP Solutions is a world-class Managed Services Provider (MSP) with a comprehensive set of products, services and solutions available to help Clients achieve their business technology goals. Throughout our 48 year history, DP Solutions has learned what it takes to be successful and has specifically tailored its services to meet and exceed Client expectations. Below is a representation of our primary business areas:
1. Managed IT Services: In teaming with DP Solutions, we become an extension of your organization focusing on both short-term objectives and long-term technology initiatives. We provide all the benefits of a fully-staffed IT department for businesses that either don't have internal IT staff, or for those organization looking to augment their existing IT staff. DP Solutions can seamlessly work with existing IT staff to supplement your firm's needs. With our Managed IT Services, you get access to our 24×7 locally staffed service desk, 24×7 proactive monitoring and management, preventative maintenance, technology planning sessions with your dedicated account team, and so much more!
2. Cloud Services: We provide custom-tailored hosted resources to house your applications or infrastructure, eliminating the need to manage and maintain expensive hardware. Services in the cloud provide you with secure anytime, anywhere access to your applications and data.
3. Managed Backup & Disaster Recovery: A powerful, proactive, and intuitive suite of customized business continuity solutions. Our Managed Backup and Disaster Recovery Services offer comprehensive, cost-effective, real-time recovery designed specifically for your size business, no matter how large or small. We keep your data protected and current by continually backing it up with redundant systems and leveraging cloud technologies to keep it safe and secure. With this service, there are no upfront costs, and there's no need to purchase any additional hardware or software.
4. IT Security & Compliance: DP Solutions provides comprehensive Security Risk Analysis, Assessments, Security Planning, and Security Officer Services. We assist clients with their IT Security needs such as email hosting and encryption, managed firewalls, endpoint device encryption, backup and disaster recovery, security training and awareness, and other proactive threat management solutions.
Whether you need assistance with analyzing your anti-virus software, locking down policies, educating your staff on cyber-security best practices, or simply need a trusted adviser, we are there to help you defend your network from advanced threats.
5. Professional IT Consulting Services: Our goal is to assist you with the planning and implementation of challenging projects or technology. On the leading edge of the IT curve, DP Solutions' engineers are well versed in the latest standardized technologies and can help your organization tackle intimidating projects. Whether implementing an Exchange server upgrade or migration, a geographically 'stretched' environment initiative, or disaster recovery / availability planning, DP Solutions' subject matter experts are here to help you fill in the gaps.
Q: You say that you're a different type of IT company – what does it mean?
A: As a world-class Managed Services Provider (MSP), DP Solutions understands the business and the market like no other in the region. Quite frankly, the industry is evolving and changing and DP Solutions is proud to help lead the way. A decade ago, many larger businesses had an in-house IT department, and only small businesses outsourced their IT. These days, organizations of all sizes widely recognize the inherent benefits of outsourcing at least some, if not all of their IT support needs. As such, the marketplace for managed IT services has become increasingly crowded with small and independent IT service providers, each competing to attract clients with nearly all of them talking about "proactive services" and with lots of "promises" and very little to offer in terms of real strategic business value or substance to business owners. DP Solutions' business approach and methodology differs greatly from other MSPs who focus primarily on "managing technology".
At DP Solutions, we deliver the results and outcomes that businesses require through the consistent implementation of standards and alignment with industry best practices. DP Solutions provides an executive level resource and overview to ensure that we are meeting the strategic goals of your organization on a daily, weekly, monthly and quarterly basis. Your DP Solutions dedicated account management team will consistently measure, score and report on the state of your business systems against industry standards and create clear technology plans and roadmaps to help get your IT systems to where they need to be for success. DP Solutions' focus is on providing true value as a business partner to help business owners and management make better IT-related decisions and to improve risk management.
At DP Solutions, we engage clients with enthusiasm and attention to every detail. From initial contact and throughout your entire relationship with DP Solutions, our passionate team of business professionals will be there every step of the way with guidance, expertise, management and accountability. Our entire company and team is trained and focused squarely on the success of our clients and on providing a truly superior service experience and a lasting business relationship. In short, our goal each and every time is to make your firm our client for life and we are proud of our success. DP Solutions has a client retention rate of over 96% and our average employee tenure is just over 10 years!
Q: What is the best time to start planning for a cybersecurity?
A: The time to start planning for a security threat is BEFORE a cyber-attack occurs…not during! Cyber-security planning should be done continuously, especially as your organization changes. By proactively planning and adjusting for cyber threats, you can significantly reduce the risk of negative consequences from technology security incidents.
The following are key areas to keep in mind when creating your Cyber-security plan:
• Physical access to your building(s)
• What to do with lost or stolen mobile devices
• Compliance requirements
• Disaster Recovery
• Acceptable Use
• Data-breach incident response
• Threat monitoring
Q: What are your plans for the future?
A: Last year, DP Solutions had real focus on Cyber-security and we had tremendous success implementing our new Managed SOC-as-a-Service and SIEM solutions for managed threat detection and response. As our industry faces increased commoditization pressures, DP Solutions seeks to create real separation from our competitors and provide increased value to our customers. In 2019 we will be focusing a tremendous amount of energy on improving our account management and client engagement practices, as well as implementing true standards and alignment reporting, technology road-mapping and risk assessment, and advisory services as part of our service offering.
As always providing a truly superior client experience is our top priority.