If your data is important to your business and you cannot afford to have your operations halted for days – even weeks – due to data loss or corruption, then you need to read this report.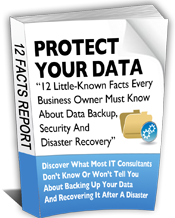 This report will outline the most commonly made, costly mistakes that most small business owners make with their data backups, and reveal...
The only way to know for SURE your data can be recovered if lost, corrupted or deleted—yet fewer than 10% of businesses have this in place.
7 things you should absolutely demand from any off-site backup service.
Where many backups fail and give you a false sense of security.
The No. 1 cause of data loss that businesses don't even think about until their data is erased.
Fill in the form to receive your free copy.