---
Guest Article
3 Ways to Get Your Life Back
When first starting out in my career, I had a meeting with an executive where I worked that completely revolutionized how I viewed things. While sitting in her office, I noticed a small picture frame on her desk that had a note with the words "eat lunch" on it. I asked her why she had that sign, and she responded by saying that she'd become too busy to eat lunch most days. This scene absolutely horrified me. Work is not supposed to suck the life out of you.
After this experience, I decided to never be in a similar situation, and I wanted to make an effort to ensure that other business leaders never felt like their work controlled every aspect of their lives. I developed three ways for business leaders to reclaim their lives. While doing each one will help in its own way, in order to truly get your life back, you need to do all three.
The first thing you need to do is make personal goals. We're always setting new goals when it comes to our businesses, but we also need to have goals for our everyday lives. These goals must line up with what you want to do when you're away from the office. I know of one CEO who set a goal to be at home when his teenager was off from school at least four days a week. Figure out what you want to accomplish at home or with your family, and make the necessary changes to ensure that reality.
Just setting goals might not be enough. You also need to schedule personal time. I called one of my colleagues recently, and when he answered, he asked a question about a diaper bag. I felt confused by this at first, but he clarified that he had taken the morning off to bring his family to the zoo since the kids returned to school the next day. Always leave time for yourself and your family. If somebody is trying to schedule your time over one of your personal commitments, tell them you are not available.
The final way to reclaim your personal life is the "delete, delegate, delay and do" method. When you first get a task, just don't do it and delete it. If it's too high of a priority, see if you can delegate it to someone else. If there's nobody to delegate to, see if you can delay. If that's not practical, then just do it.
If you follow these three tactics, you'll see positive results in your personal and professional lives.
---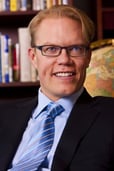 Dr. Geoff Smart is the chairman and founder of ghSMART, a leadership consulting firm that exists to help leaders amplify their positive impact on the world. Dr. Smart and his firm have published multiple New York Times best-sellers. He stays active in his community and has advised many government officials.