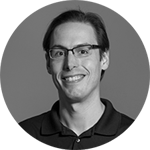 Ben Schmerler
Director of Strategic Operations

Ben works with organizations to develop a consistent strategy for cyber security, IT policy, compliance management, and other technology concerns.
He was named to CRN's Next-Gen List and provides personalized security awareness trainings to DP Solutions' clients' staff. He also runs DP Solutions' Phishing Testing Program to help end-users become a cybersecurity asset as opposed to a liability.
Ben hosts regular educational cyber-security webinars, leads DP Solutions' TechTip video series, has been featured on local TV news & radio, does many speaking engagements, sends out weekly IT Security Tips, and contributes articles and blog posts for a variety of industry publications.