---
Guest Article
The Benefits Of A Mastermind Group
Mike Michalowicz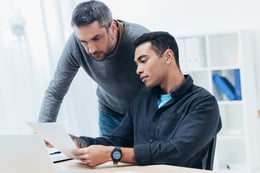 I believe no man is an island. So, I offer this tip: if you're an entrepreneur, you need to be in a mastermind. Being in a mastermind group is one of the most powerful tools to help you increase profitability in your business.
What is a mastermind group?
If you aren't familiar with them, a mastermind is a group in which entrepreneurs can mentor each other and help each other grow their businesses. It can be an important catalyst for growth and shaping your business.
The mastermind I run is called the Edison Collective. We get together face-to-face every quarter to expand our business (and occasional musical) knowledge. We share our ideas, solutions, best practices, successes and challenges as entrepreneurs. Most of all, we motivate and inspire each other.
What are the benefits of belonging to a mastermind?
While some mastermind groups run on a digital platform, face-to-face meetings are important if they're an option. What I love about being in a mastermind is the connection. We are truly there to learn from each other. No one walks in with their ego. We gather to benefit ourselves and each other by sharing and learning from other entrepreneurial experiences.
To benefit from a mastermind, you must be willing to collaborate, share and learn from each other. At times, it's almost like free coaching. You get sneak peeks at how businesses run behind the scenes, and oftentimes, we take those ideas and implement them in our own practices. And remember, trust is imperative. There is total confidentiality, so feel free to not be a boss for a bit.
I have found that meeting with this group has raised the bar for me. My business is more profitable. I find support from my peers as well as education and resources I may not have been exposed to in the past. Even better, I have another venue for accountability (yup, even I need it!) and a place to share my goals. So next quarter when we meet, I better bring the results!
Who can be in a mastermind?
The beautiful thing is that you don't have to join an established mastermind. You can start your own. Find like-minded entrepreneurs who are driven to achieve the same goals and vision you are. Get together once a quarter face-to-face, have open discussions about your business and get your insights from each other.
That right there? Priceless!
---

MIKE MICHALOWICZ (pronounced mi-KAL-o-wits) started his first business at the age of 24, moving his young family to the only safe place he could afford – a retirement building. With no experience, no contacts and no savings, he systematically bootstrapped a multimillion-dollar business. Then he did it again. And again. Now he is doing it for other entrepreneurs. Mike is the CEO of Provendus Group. He is also a former small-business columnist for The Wall Street Journal, MSNBC's business makeover expert, a keynote speaker on entrepreneurship and the author of the cult classic book The Toilet Paper Entrepreneur. His newest book, The Pumpkin Plan, has already been called "the next E-Myth!" For more information, visit MikeMichalowicz.com.