---
Guest Article


Darren Hardy
When you hear the term "leader," adjectives like strong, assertive, and powerful come to mind. But what about vulnerable? Those in leadership positions often believe that displaying vulnerability to their team is a sign of weakness.
I'm here to tell you that they couldn't be more mistaken. In reality, vulnerability is a strength, and all skilled leaders have it. And in order to help you grow into a better leader, I want you to be vulnerable.
Patrick Lencioni once said to me, "Start by coming to terms with your own vulnerability as a leader and then translate that to your team and then the rest of the organization." Waldo Waldmen, a top fighter pilot and a good friend of mine, once said something similar. He explained that after every mission, they would have a debriefing. Before it started, everyone was required to take off their name tags and their rank. Now, with an even playing field, they would go over the good, the bad, and the ugly of the mission. The leader would take the lead, admitting their own mistakes first.
They call this "exposing your chest to daggers," and it creates an environment for the new hires, the young wingmen, and the young folks that are in the formation to say, "You know what? If so and so, the flight lead, or so and so, the top gun, is going to share his or her mistakes, then I can do the same thing." But it has to come from the top down, and it means being vulnerable, more honest, and more open about what's going on. Waldo said the key is to show you are a human being first and a top gun or high-ranking officer second.
Do you start meetings by exposing your mistakes first?
I'm not talking about being passive-aggressive. "I never should have trusted so and so with this." I see and hear that all the time, and it's the opposite of exposing your chest to daggers. I'm talking about where you underperformed, did something wrong, or made a bad call. Those are the things to expose.
Many years ago, Les Brown gave me some great advice. He said, "You are a compelling speaker and certainly you have had a tremendous track record of success — but you can't just talk to people's heads or only appeal to their intelligence." He continued, saying, "They have to feel your story, the whole story — failures, shortcomings, fears, and pitfalls — both the triumphant and the terrible." That, he told me, was what would make me a real leader.
As you can imagine, this was an awakening, and it changed my life. You'll notice it if you read my first book and my new one; "The Entrepreneur Roller Coaster" is a lot more honest about my personal journey, warts and all. While people may be inspired by your success, they are empowered by knowing that they can fail at times and still succeed wildly.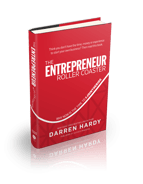 If you want to be a leader, open yourself up to others. If people can feel and connect with you, they will charge through walls for you. That is real leadership, real influence, and real achievement. So, right now, think of one failure with which you can open up to your team.
Are you in? I promise you will see immediate results.
---
Darren Hardy is the creator and visionary behind SUCCESS magazine as well as the NYT-bestselling book "The Compound Effect." His newest book is "The Entrepreneur Roller Coaster." For more, visit darrenhardy.com.

---