DPS Achieves Datto Blue Status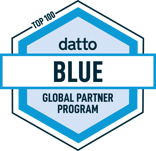 We are proud to announce that DP Solutions has achieved exclusive Blue partner status with Datto, the world's leading provider of IT solutions delivered through managed service providers (MSPs). Datto Blue status represents the top 5% of the company's partners, worldwide.
DP Solutions has exceeded high standards of performance to qualify for Blue status with Datto's Global Partner the highest classification provided by Datto. Blue status includes many exclusive programs and benefits designed to support further enablement and business growth!
---
There is one thing many small businesses do that puts them at risk for a cyber-attack. They take a reactive approach to IT security. They wait until something bad happens before they do anything.
Unfortunately, we live and work in a time when you can no longer be reactive to cyberthreats. Practically every small business is connected to the Internet and relies on a network to function. It's the digital world we live in. We have to deal with hackers, data loss, equipment failure and everything else that goes with living in that digital world.
But you can reduce your risk and prevent hackers from getting into your network by taking a proactive approach to your cyber security and by working closely with an experienced IT services company that knows how to navigate today's digital world and all the threats that go along with it.
Looking back 20 or 25 years, reactive IT support used to be the norm. Something would go wrong and you could call up IT to fix it. Well, things are more complex in 2020. Threats take many forms, and simply being reactive doesn't work anymore.
What does it mean to be proactive with your IT support?
It means your business is more secure and you're ready to take on today's cyberthreats. It means you're working with professionals who have the tools and resources to protect you before the worst happens. It just makes sense.
Working with a dedicated IT firm means you don't have to take care of your IT security needs by yourself. If you're like most small businesses, you don't have the resources to hire an IT specialist or a whole IT department. Having an on-site IT specialist can be expensive. Because they are in such high demand right now, they command hefty wages.
Plus, you don't want any gaps in your support. If your one "IT guy" goes on a vacation or can't come in one day, you're out of luck should anything happen. When you work with an IT services firm, chances are they'll offer 24/7 support (many of the good ones do).
When you have 24/7 support, it becomes so much easier to catch problems before they happen. If your cloud backup goes down, you've got support. If hackers try to break through your network security, you'll be alerted. And all of your software stays up-to-date with the latest security patches. The list goes on. You have people watching out for your interests. Think about how much better you'd sleep at night with that kind of protection guarding your business!
Here's another really great thing about working with a proactive IT services firm: you can tell your customers about it! In fact, you could make it a selling point. Today's consumers are more security-minded than ever before. And with data breaches hitting major companies every year, your current (and future) customers want to know that their personal and financial data are safe.
Don't wait until something breaks or until you are hacked before calling support for help. That puts the future of your business at risk. You need to work with an IT services company that is ready and willing to proactively manage your network. An experienced company has the training, certification and know-how required to tackle today's cyberthreats while managing your network's needs.
Make that call and never be caught off guard by threats that are never going to go away. Turn vulnerabilities into strengths.