READERS VOTE DP SOLUTIONS ONE OF THE TOP IT OUTSOURCING FIRMS IN MARYLAND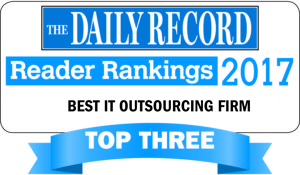 Columbia, MD, August 28, 2017 – DP Solutions is proud to announce that we have been voted as one of the Top 3 IT Outsourcing Firms in Maryland by readers of The Daily Record. The publication launched its first Reader Rankings survey in April 2017 to seek the best service firms in the state in 10 categories from real estate to higher education.

The Daily Record, through its day-to-day news, event and special product coverage across the state, spotlights thousands of businesses each year, according to Publisher Suzanne Fischer-Huettner. "Reader Rankings gives our audience the chance to spotlight their favorite businesses," she said.

"We are thrilled to have achieved this recognition by The Daily Record's readers," said Simon Tutt, President and CEO of DP Solutions. "There is no better accolade that we can receive than one directly from clients who have experienced our top level IT support and services."

Reader Ranking online surveys were open for little less than a month in the late spring of this year. Respondents could cast their votes for the businesses listed on the survey or add their own. Close to 1,600 responses were collected across all categories. Due to the success of this first issue, The Daily Record is planning on repeating the Reader Ranking next year.

About The Daily Record
The Daily Record, a multimedia news source, publishes a print and online edition five days a week and breaks news daily on its website, thedailyrecord.com. In addition, The Daily Record publishes more than 30 special products a year including Path to Excellence: A Women's Guide to Business, Doing Business in Maryland and Cyber Report. The Daily Record also honors leading Marylanders through seven annual awards events including Maryland's Top 100 Women, Influential Marylanders and Most Admired CEOs. Its Digital Marketing Solutions helps customers with social media, search engine marketing and optimization, retargeting, email marketing and more. The Daily Record is part of BridgeTower Media, one of the country's leading business-to-business media companies with 44 print and digital publications in more than 20 U.S. markets.
About DP Solutions
With over 46 years of experience, DP Solutions serves as a trusted IT business partner to its clients. DP Solutions provides innovative cloud business services, managed IT services, and security & compliance solutions that give customers the peace of mind that their businesses will run efficiently, effectively and securely. DP Solutions is committed to excellence in its work ethic, in the products and services provided, and in the relationships with its clients and communities. For more information, please visit, www.dpsolutions.com.
###