Karyn Schell Appointed As President of DP Solutions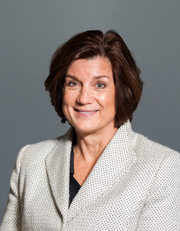 COLUMBIA, MD, September 17, 2018 -
DP Solutions, a Maryland-based Managed IT Services Provider, has named Karyn Schell to the role of President, replacing Simon Tutt. In this position, Ms. Schell will be responsible for creating and implementing the company vision, mission and overall direction; maintaining awareness of the competitive landscape, opportunities for expansion, markets, new industry developments and standards; meeting new prospective clients and forming long lasting and deep trust relationships with existing clients. Mr. Tutt will work temporarily in an advisory capacity to the executive team and will enter retirement upon completion.

"Karyn is an immensely qualified and experienced executive who thoroughly understands all segments of our business and is able to identify areas for improvement to the benefit of both our clients and our staff," said Brian Usher, Vice President of Finance at DP Solutions. "We are thrilled for her to assume this role and to lead DP Solutions forward and upward!"

"I am extremely pleased and honored to be selected for this position," said Ms. Schell. "This is an exciting time for the company and I look forward to leading us as one of the fastest growing and most highly rated Managed Services Providers in the Mid-Atlantic!"

"I made a promise to DP Solutions and our clients when I assumed the role of President that I would not pass on the role until I had built a team of the best of the best to succeed me. I am pleased to report that I have far exceeded that promise. Karyn is the most exciting and wonderful leader and person that I have ever met. She possesses an incredible strength and vitality for all things I.T. and is driven by creating the ultimate client experience and company culture. DP Solutions and its clients are truly in good hands!"

Ms. Schell joined DP Solutions in 2007 as a Project Manager and Distribution Applications Specialist and was
responsible for selling and implementing IBM-hardware based distribution systems across the Mid-Atlantic. In 2010 she was appointed as Operations Manager and took on responsibility for all of the product and service delivery aspects of the organization including customer experience. In 2011 Ms. Schell was promoted to the role of Vice President of Operations and in this capacity she developed her executive skills in preparation for her future role as President.

To learn more about Ms. Schell and her new role, visit her bio page.

About DP Solutions

DP Solutions is an award-winning Managed Services Provider (MSP) serving the Mid-Atlantic. We function as a true partner to support Clients' long-term initiatives with a breadth of technology expertise including managed IT services, managed cloud solutions, backup and disaster recovery, security and compliance consulting, project services, and a 24x7 Service Desk, which is locally staffed by highly qualified technical support staff. We provide the benefits of a fully staffed IT department for businesses that don't have internal IT staff, or for those looking to augment existing IT staff. In teaming with DP Solutions, we become an extension of your organization.
#####