KARYN SCHELL
Vice President of Operations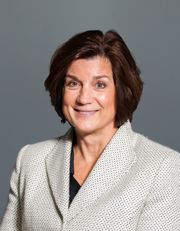 With over 27 years of experience supporting distribution and manufacturing efforts in operations, logistics, and account management, Karyn Schell has brought a wealth of knowledge to DP Solutions. Karyn has been with DP Solutions since 2007, serving first as our Distribution Services Specialist and then as Project Manager. Karyn was so successful in these roles that she was appointed Vice President of Operations in 2010 to oversee all aspects of DP Solutions' functions, including Network Services, Help Desk, Data Center, Programming, Maintenance, and Purchasing.
In addition to managing the company's organizational operations, Karyn is also responsible for reviewing processes, improving communications, and creating an environment that benefits both DP Solutions' customers and staff, all of which is critical to the success of the company as a whole. Karyn's main goal is to assist DP Solutions in its development, growth, improved customer service, and continued success.
Before joining DP Solutions, Karyn was a Senior Account Manager for Crown Specialty Packaging where she was responsible for key account management, project development, and execution of a multi-billion dollar customer. She also held roles as Operations Manager and Logistics Manager, where she oversaw all aspects of the manufacturing segment, including production, capacity planning, and customer project management.
Prior to her employment with Crown, Karyn worked for Computer Aid, Inc., providing support and training on internally developed financial systems to customers in the distribution and manufacturing segments. Here she also focused heavily on distribution software solutions including, Infor ERP A+, IBM DMAS, and IBM MAPICS.
---

See the rest of the team »