DP Solutions Ranked Among Top 100 Cloud Services Providers
7th Annual Talkin' Cloud 100 Report Identifies Top Cloud Services Providers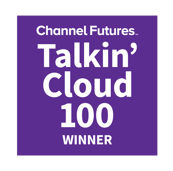 December 21, 2017
: DP Solutions ranks among the world's Top 100 cloud services providers (CSPs), according to Channel Futures seventh-annual Talkin' Cloud (TC) 100 report.
The full report is available now by visiting
ChannelFutures.com
.
Based on data from Channel Futures' online survey, conducted between August to October 2017, the TC 100 list recognizes top cloud services providers (CSPs), including MSPs, hosting companies, cloud consultants and more. Rankings are based on annual cloud services revenue growth, and input from Channel Futures editors.
"On behalf of Channel Futures, I would like to congratulate DP Solutions for its recognition as a Talkin' Cloud 100 honoree," said Nicole Henderson, a contributing editor at Channel Futures who oversees the TC 100 project. "The organizations on this year's list demonstrate everything from technological prowess to thought leadership to business excellence across a number of functional disciplines. If you want to understand where the market is heading, watch these companies in 2018."
About DP Solutions


Simply put, the sole goal of DP Solutions is to streamline our clients' IT management, allowing them to grow their business. With over 46 years of experience, we serve as a trusted IT business partner to our clients. We provide innovative managed IT services, IT disaster recovery, and cloud business services that give our customers the peace of mind that their businesses will run efficiently, effectively and securely. DP Solutions is committed to excellence in our work ethic, in the products and services we provide, and in our relationships with our clients and communities. For more information, please visit,
www.dpsolutions.com
.
About Informa


The
Channel Futures
brand is part of Informa which operates at the heart of the Knowledge and Information Economy. It is a leading business intelligence, academic publishing, knowledge and events business. With more than 7,500 employees globally, it has a presence in all major geographies, including North America, South America, Asia, Europe, the Middle East and Africa. For additional information on Informa, visit
www.Informa.com
and for information on Channel Futures, visit
www.ChannelFutures.com
.
Contacts
:
DP Solutions:
Jill Rose, Marketing Manager, DP Solutions
jrose@dpsolutions.com
Channel Futures:
Nicole Henderson, Content Director, Channel Futures and ITPro
nicole.henderson@informa.com
###