Superior IT Support for Healthcare, Medical and Insurance
How DPS Helps Healthcare
Our presence in the healthcare industry is strong – satisfying over 150 medical offices from Northern Virginia to Massachusetts.
Whether your practice has one or multiple locations, we can manage your network infrastructure so you can put your focus where it belongs – on your patients.
Our advanced knowledge in IT support for healthcare includes:
HIPAA compliance and the importance of confidentiality and medical data security
HL7
Meaningful Use
Health Information Exchange (HIE)
Medical data management
Electronic medical records (EMR) and other practice management tools
DP Solutions has put in the time and resources to become experts in delivering custom IT solutions for medical practices. Our staff is trained to plan, implement and support the specialized IT needs for the healthcare industry.
Comprehensive HIPAA
Assessment
We know that compliance issues can drive anyone nuts…that's why we offer a comprehensive HIPAA Assessment for medical practices like yours! This assessment can help you simplify your compliance & security efforts, whether you're just getting started and don't know where to begin, or you're a seasoned practice manager and need to revisit your existing compliance strategy.
Learn more about the HIPAA Assessment

Secure, Convenient Cloud Computing
Secure access to patient records, health systems, staff and diagnostic information anytime, anywhere
Assurance that data is compliant with healthcare regulations (i.e. HIPAA, Sarbanes-Oxley)
Reducing capital expenses
Lowering IT costs
Scaling for your evolving needs
HIPAA Compliant Disaster Recovery
Since HIPAA regulations state that "Healthcare organizations must have procedures established for obtaining necessary electronic protected health information during an emergency (i.e. a situation in which normal environmental systems, such as electrical power, have been severely damaged or rendered inoperative due to a natural or manmade disaster)," it's imperative to have a DR plan in place before you're faced with a catastrophe. More about Disaster Recovery by DPS
Contact us to find out more about how DP Solutions can help your practice be more productive and profitable.
---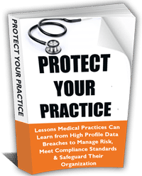 Whitepaper: Protect Your Practice
Lessons Medical Practices Can Learn from the Target Data Breach to Manage Risk, Meet Compliance Standards & Safeguard Their Organization
Get this free report to learn
What the Target data breach can teach us about HIPAA/HITECH compliance

4 things medical practices can do to protect patient data

7 easy steps to take to manage risk for your medical practice

How you can uncover and remedy vulnerabilities in your practice
GET THE WHITEPAPER >