Ben Schmerler
Director of Strategic Operations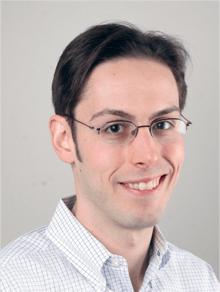 While many of our talented staff work on things like network integration or support, Ben's role as Director of Strategic Operations is to focus on our clients' strategy to help them make sound technology decisions. For example, he can help a client decide whether to host their infrastructure in-house or off-site, determine what is necessary to meet a security or compliance standard, or provide insight into areas where clients need a sophisticated analysis to come up with the right IT approach.
Ben also works directly with our clients' staff to provide personalized education on topics that affect their day-to-day interactions with technology such as safe email and web practices, secure and effective mobile device use, how to prevent phishing and ransomware attacks, and so on.
He hosts regular educational cyber-security webinars, does many speaking engagements, sends out weekly IT Security Tips, and contributes articles and blog posts for a variety of industry publications.
Ben has both an educational and working experience with technology. He graduated in 2005 from Towson University with a degree in Computer Information Systems and Business Administration. Upon graduation, he took on a role at Choice Technologies as a Project Manager where he oversaw the implementation of client systems. A large portion of those implementations consisted of Electronic Medical/Health Systems due to trends in the health care space, which required significant attention to HIPAA/HITECH compliance. This was the impetus for his expertise in compliance, which eventually led to his unique process of matching compliance standards and best practices to client system design, integration, support, and risk management.
As this experience grew, Ben's role evolved at Choice Technologies and eventually on to DP Solutions where he took on his current role advising, guiding, and educating clients.
Click here to read some of Ben's blog articles.
---

See the rest of the team »